One of the most serious threats currently facing the United States, and just about every other country in the world, is the excessive debt that has been run up by our politicians. Just in the past few weeks, the Parliament of the Netherlands has collapsed, the International Monetary Fund (IMF) has said that the Euro is likely to collapse as a currency soon, the credit rating of Spain has been decreased again by the S&P, just to name a few. Inflation is starting to increase at a rapid rate and hyper inflation is becoming a very real concern. Other nation's currencies have fallen to no value in the past (Argentina, Zimbabwe and Germany, just as examples) and it could happen to the U.S. as well. Anyone purchasing groceries has probably noticed the rapid increase in prices over the past year. The value of the dollar is falling, and will further weaken as other nations begin to exchange other currencies and gold for oil. Our status as the World's Reserve Currency is the only thing keeping our heads above water. If the dollar collapses, it will bring the stock market down with it.
To maintain some value and protect ourselves, alternate currencies may be needed, as well as bartering items. A number of states have already agreed to recognize gold and silver as legal money again. Other nations are buying precious metals en mass, as are a number of Universities and Corporations.
While food, water and tools are the natural priorities (you can't eat metals), let's talk about alternates to the dollar.
Precious metals come in a variety of forms: mining stocks, mutual funds, ETFs, bullion rounds, bullion bars, base metals, jewelry, coins, numismatic coins, and ammunition.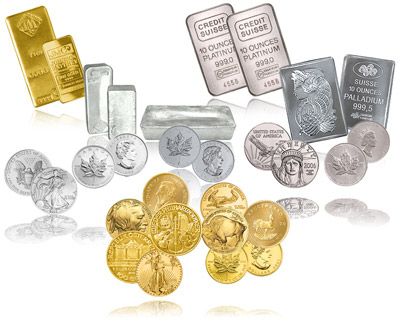 The goal of this thread is to increase awareness and provide a basic primer for these commodities.